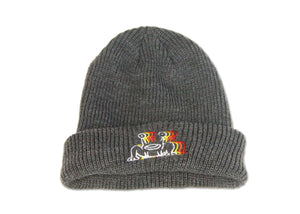 Hi How Are You Beanie by Austin Blanks
Keep you head warm with this fun design from local company Austin Blanks. Features the iconic "Jerimiah the Innocent" from Daniel Johnston's "Hi How Are You" unfinished album.
Also seen in a mural at 408 W 21st St, the  "Hi, How Are You" art has become strong anthem for mental heath awareness. 
The Hi, How Are You Project is an Austin, TX based non-profit with a mission to remove the stigma and shame around mental health, so people will feel open to communicate, one conversation at a time! The Foundation, created with the support of Daniel Johnston and Family, provides a platform for the exchange of ideas and education on mental well-being, along with the creation of thoughtful media and events. Daniel Johnston was a singer, songwriter, an artist, and a friend to all. Although he struggled with mental health issues for much of his adult life, Daniel triumphed over his illness through his prolific output of art and songs. He inspired countless fans, artists, and songwriters with his message that no matter how dark the day that "true love will find you in the end."