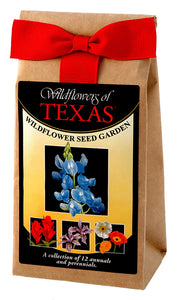 Wildflower Seed Garden
Making Lady Bird proud, our giftable seed collection includes the highest quality wildflower seeds
native to Texas, selected for gardening anywhere in the world.
The collection includes such favorites as: Bluebonnet, Paintbrush, Coreopsis, Primrose, Bluebell, Iris, Black-eyed Susan, Baby Blue Eyes, Penstemon, Coneflower, Poppy, and Marigold. With enough seeds to cover a 350 square foot area you are sure to enjoy a garden of delightful color and scent that offers the added bonus of attracting bees, butterflies, and hummingbirds. 
Planting instructions included, this collection makes a thoughtful gift and a long lasting joy. Best planted in Fall or Spring, this seed pack is good until Fall of 2025. 

Please note that this seed mix contains inert materials to aid in
uniform seed distribution. Spreading agents are included with
wildflower seed mixes to keep the seeds from clumping and thereby
allowing hand casting or seeding with a spreader.